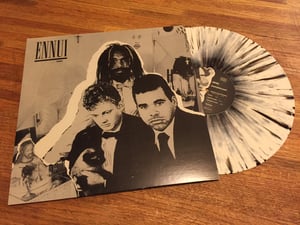 $

15.00
After a grueling year-long tape transfer endeavor from the original reels, we're proud to announce the long awaited and obscure second full length by Ono, 'Ennui', is finally readily available for mass consumption. Originally released by Thermidor in 1986, the legendary experimental group from Chicago's southside expands upon their incredible 'Machines That Kill People' album three years prior while simultaneously experimenting with atmospherics and becoming further sparse in their compositions. Travis belts out his gospel-tinged Beefhart-ian sermons over a post-Gristle clatter, fitting nicely on the shelf between Monte and Minimal Man (who really shelves by first names, though?), taking traditional hymns and filtering them through afterwar POVs, remnants of post-modern abstract punk and Western world queer counterculture. The theatrical attributes of the band shine heavily on 'Ennui', giving noticeable nods to Pere Ubu (the camp whom Travis cut his teeth with living in Cleveland during the seventies); however, scrambling the influences beyond recognition, leaving a trail for the listener to digest and conjure (think) they know where they're coming from. This was the last grooved document they released until reemerging as hidden gems of Chicago's avant-garde art scene in the late aughts (many thanks to Plastic Crimewave's investigation skills), reigniting the performance flame of the band members and exposing (corrupting/warping/inspiring) generations of fresh faces in the spaces and basements of the Chicagoland music sewers (not to mention playing at the city's best art museums and constantly being heralded in the press as Chicago's best kept historical secret). Ono continues to currently release albums on Moniker; their current heavily-stringed (yet ever shapeshifting) incarnation an Eddie Hazel-meets-modular-synthesis soup encrusted and fried with noise and theatrics, constantly outshining the young and the restless they share the stage/dirt floor with. Then and now, one of (if not) the best Chicago's weird punk/art world. This reissue is a collaborative effort by Galactic Archive and Priority Male, with arts preservation grant assistance through non-profit SOTA. 150 gram vinyl, 100 on color, 400 on black.
* Shipping is included in price!
* If you want a black vinyl copy, please let me know.
* If you are ordering more than one item I will refund you the difference in shipping. I promise!